Here at Planet Alfa Romeo, drivers from the Miami area are able to view our quality Italian automobiles that provide you with luxury, thrills and so much more. Among those options is the Alfa Romeo Stelvio, a SUV that gives you high levels of performance and plenty of thrills and standout features to give you a stylish and head-turning ride no matter where you go.
With the Stelvio, you will not only find the sleek styles of Italian luxury, but also plenty of versatility as a utility vehicle. You can fold the seats flat for added room with a 40/20/40 split, while you and your passengers can also sit and enjoy the vehicle in comfort with many sport and luxury inspired finishes throughout the cabin area. You'll also find a connected drive with plenty of features that give you a more satisfactory driving experience throughout the likes of Miami, Doral and Coral Gables which includes a rear back up camera with dynamic guidelines, an Alfa DNA drive mode selection which lets you choose an experience that can give you better handling, control, and more by adjusting the active suspension. You'll also find an 8.8-inch widescreen touch display with access to features like Android Auto™ and Apple CarPlay™ onboard so you can connect with your smartphone device at all times for standout entertainment and convenience.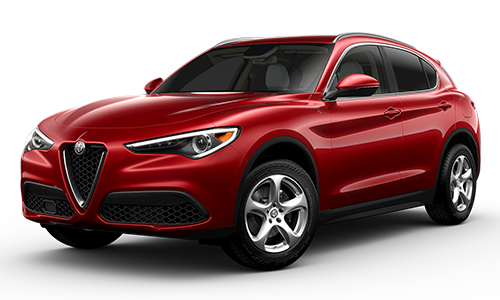 There's also plenty of standout safety on the Alfa Romeo Stelvio, which includes forward collision warning plus, among many others that are aimed at keeping you safe on the roads.
Of course, with all these standout features available, there's no doubt you'll enjoy your experience behind the wheel of the Stelvio. However, at Planet Alfa Romeo, we understand the desire to see how this vehicle stacks up against other luxury brands in its segment, such as the Audi Q5. That's why we've taken the time to put together a comparison so you can see where the Stelvio holds the advantage over the Q5 and why it's the choice for you!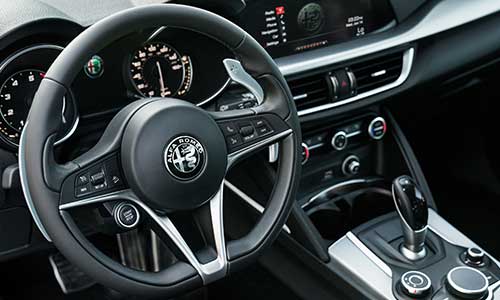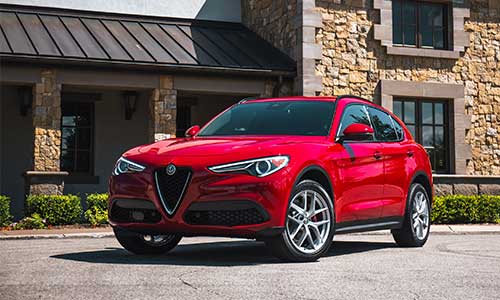 Alfa Romeo Stelvio vs. Audi Q5
When it comes to providing you with more power out of your luxury utility vehicle option, the Alfa Romeo Stelvio provides you with a 2.0-liter turbocharged four-cylinder engine that produces 280 horsepower and 306 pound-feet of torque. On the other side, the Audi Q5 offers just 252-horsepower and 273 pound-feet of torque on a 2.0-liter turbo engine as well, meaning you're getting more power and grip with a similar engine on a similar sized vehicle, showing that Alfa Romeo certainly doesn't hold back the potential of your vehicle's performance.
Continuing with standout performance, drivers are going to find with the Alfa Romeo Stelvio's standard eight-speed transmission you'll have a smooth and responsive ride that helps power all those gears so you can maximize the aforementioned power advantage, while the Audi Q5 offers a seven-speed transmission, it's all because it has less power to give, which is another check in favor of the Stelvio.

Additionally, even with all that added performance of the Alfa Romeo Stelvio, its transmission helps lead to a more efficient ride. You'll find that the Stelvio provides more highway miles per gallon with 29 mpg, giving it a slight edge over the likes of the Audi Q5, meaning you can be confident that with all the power you have, knowing it will take you throughout the area and maximize your fuel economy in the process.
In addition, there's plenty of things to like on the Alfa Romeo Stelvio that the Audi Q5 doesn't have such as memory adjustable mirrors and a wider mix of seating finishes available, too so you have options and can find the right fit for your lifestyle.
Learn More About the Alfa Romeo Stelvio in Our Miami Showroom
When you stop in and see us here in our showroom serving areas like Doral, Miami Lakes, Kendall and Coral Gables, our team will guide you through the entire process, answer any questions and discuss the Stelvio and all Alfa Romeo models with you, so be sure and contact us to learn more soon.