When it comes to driving a roadster that provides standout Italian design and quality performance to give you excitement driving through Miami and beyond, the Alfa Romeo 4C Coupe and 4C Spider are the choice for you. There's lots to love about this head-turning and iconic vehicle, which brings a modern appeal to a luxury sport brand like Alfa Romeo.
Here at Planet Alfa Romeo, we want you to get to know all the details of the 4C Coupe and 4C Spider, and discover how for any lifestyle, whether it's an everyday driver here in Miami, or a vehicle you take out to enjoy all our beautiful views in and outside city limits. Whichever path you choose for this stunning vehicle, we're sure you'll enjoy every minute behind the wheel as the 4C Coupe and 4C Spider and will be eager to stop in to our showroom to learn more and see it up close!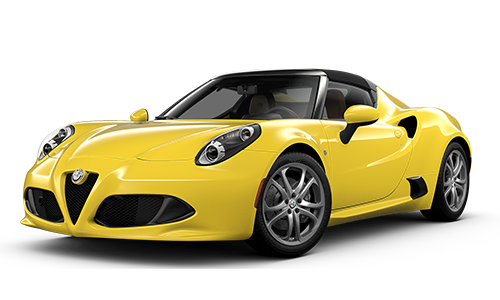 Alfa Romeo 4C Options
As we mentioned, the Alfa Romeo 4C lineup has two distinct vehicles. The first is the Alfa Romeo 4C Coupe, which is a hard top two-seater option that boasts plenty of curb appeal as an exciting vehicle made with the finest Italian design and craftsmanship to give you something unique on the streets of Miami. The same can be said of the Alfa Romeo 4C Spider, which is a top-down convertible edition of the vehicle for people who want to enjoy the open air and sunshine as they drive. With these two options, you're going to find dynamic driving no matter which one you choose, and certainly have loads of enjoyment behind the wheel.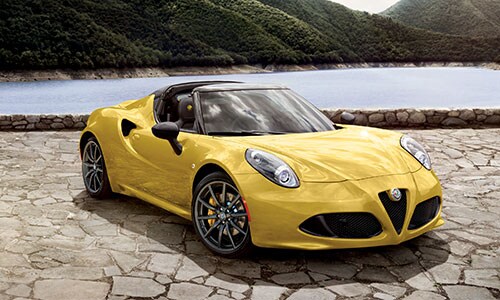 Performance
The Alfa Romeo 4C Coupe and Spider of course offer standout performance to back up its quality exterior looks with the boost under the hood. The frame that houses such a stylish design however also does its part as it uses a carbon fiber monocoque chassis, which is lightweight and provides standout performance. As for the power, the Alfa Romeo 4C lineup gives you a standard turbocharged four-cylinder engine with 237 horsepower and 258 pound-feet of torque for a top speed of 160 miles per hour. That's quite potent for a compact roadster of the Alfa Romeo 4C's size, and certainly will provide the trills you crave.
The power is smooth and sporty as well thanks to a twin-clutch six-speed transmission, and with Alfa DNA Pro Drive Mode, you're given the chance to pick the drive mode and customize the experience, whether you're looking for a sporty drive, or city cruising you can find it using this standout feature.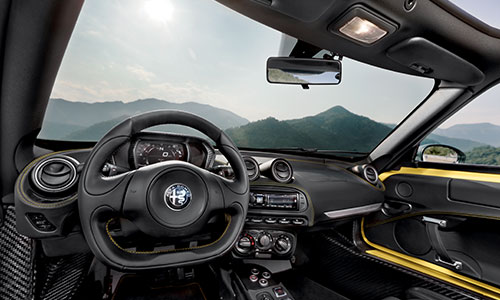 Interior and Technology
Of course, inside the Alfa Romeo 4C Coupe and Spider, you'll find plenty to like about the interior as well. It provides different interior finishes from sporty race-inspired upholstery and seating to fine European accents throughout to certainly give it the Mediterranean feel as you drive up and down the coastline in places like Miami Lakes, Doral, Kendall and Coral Gables.

While it's focus is on your driving experience the compact roadster also provides an ample suite of technology onboard as well, giving you connectivity and safety for an overall feeling of confidence.

Learn More about the Alfa Romeo 4C Coupe and Spider at Planet Alfa Romeo
If you'd like to see this standout vehicle up close, contact us today and our team would be happy to provide you with all the details, answer any questions you might have, and discuss all our Alfa Romeo vehicles with you today!